learning progress CW
Details

Category: amateur radio
Published: Sunday, 15 December 2013
I want to work in telegraphy on shortwave mostly. Furthermore I am fascinated in HST (High Speed Telegraphy). As learnig platform I use the site lcwo of Fabian Kurz, DJ1YFK.

After a break of some months I had to start again with reduced speed.

On 2013-12-15 I reached my goal and completed all 40 Lessons with 15 WpM. Every practise text lasted 5 minutes.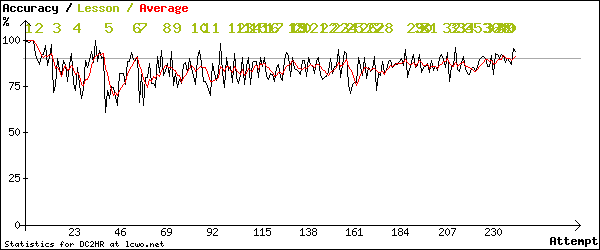 new design
Details

Category: common
Published: Friday, 15 February 2013
The design of my website was a little bit boring and had to be pepped up. So I looked around and found a suitable template (RealEstateXL-ET) and adapted it to my needs. Here you see the result. There will be some minor changes, but the basic design will remain.
heard ISS
Details

Category: amateur radio
Published: Monday, 07 January 2013
Today at

about 12 o'clock

CET

I could

hear

the International Space Station

with my

handheld transceiver.





As part of the

ARISS project

 

(

Amateur

Radio

on the

International Space Station)

 

the

ISS was in contact w

ith a school in

France

(

Ecole

Les Muriers

,

Saint-Maur-

des-

Fosses

,

about 15

km southeast of Paris

).

The

students had prepared

questions

they asked

the

astronauts

.





Unfortunately,

the receiving was possible only for a short time

and I missed

most of the answers

.